I received a couple of awards while I was out. The first one is the Folhas da Amizade (Leaves of Friendship in Portuguese) from
Laura
, one of my CT buddies. We've spent many hours on Yahoo! messenger discussing life...hehehe...so you can just imagine how much time we've spent chatting. Thank you, Laura, for this award. It really means a lot to me. Hugs & Kisses!!! **You know I'm sending this right back to you.**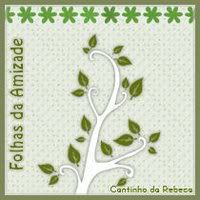 And now I pass this on to 5 amazing people whom I consider to be great friends:
1)
Stephanie
, my BFF (lol...that sounds so teeny-bopperish), for all the laughs, great memories and unconditional love and friendship.
2)
Erizza
, my sister, for always being there. I couldn't ask for a better friend.
3)
Silvia aka Phillsboo
, one of my fave designers who has become a really close friend, for all those late night chats, your support and friendship. I miss you girl!!!
4)
Kaylek
, another one of my fave designers, for giving me the honor to play with her gorgeous kits. She has a couple of new releases. Check out her blog or stay tuned here for more information.
5)
Laura
, for your friendship.
The second award is the Treasured Award, which was given to me by
Goth_Kittie
. Thank you so much for thinking of me!!!